Slide 1
Your Business Companion !
Sankyu System is a leading Merchant Gold Management System. We make our client happy everyday!
Slide 2
Sankyu Analytics
Monitor your business performance anywhere and everyday!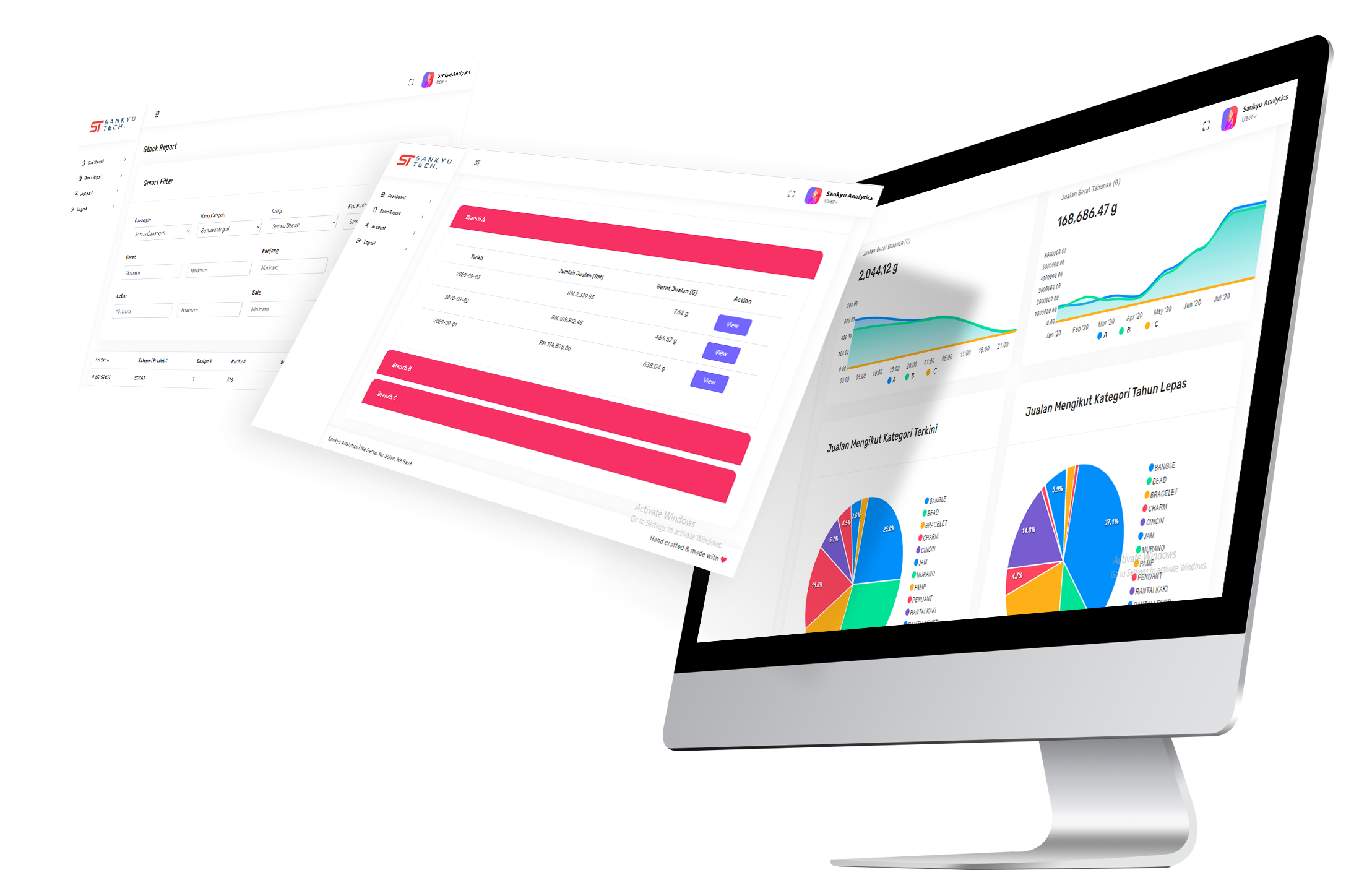 Sankyu RFID Solution
What is RFID?
Radio Frequency Identification (RFID) is a technology that uses radio waves to access (read/write) data of tags for identification without making physical contact (contactless communication). RFID is used for operational improvement, security protection and many other purposes in various industries.
Sankyu System
Sankyu Analytics
Sankyu Members
Sankyu POS
We offer a great solution in technology for businesses or personal that meet client's needs, expectations and budget. Our products and services have been proven through various implementation in numbers of businesses across Malaysia. 
Get one for your business now !
EASY MANAGE EVERY ASPECT OF YOUR BUSINESS & SAVE HOURS OF MANUAL WORK
A true partnership is a two-way street ideas and information flow openly and regularly, based on a foundation of mutual trust and respect for one another's expertise and our clients embrace this philosophy
"Alhamdulillah, dengan adanya sistem ini pengurusan kedai emas saya lebih lancar dan kemas. Sistem ini juga menguruskan semua aliran wang dan stok barang kedai emas dengan tepat dan selamat. Sistem ini juga boleh di-custom mengikut kehendak pengguna masing-masing. Kami amat berpuas hati. Terima kasih Sankyu sistem memudahkan urusan kami."
"🥰This time tidak pening sudah kira-kira sales. Dulu pening-pening lalat nak kira sebab sistem lama saya pakai tak sesuai untuk kedai emas.. But this time, everything makes me easier to access everything..dari restock item up to staff punya komisen❤️❤️. And the best, this time saya boleh tahu sudah agent siapa yang paling active!Thank you
Sankyu Gold System
for making our task more efficient and easier❤️" - Arriane Donald
"Dah nak masuk 5 tahun guna POS System Sankyu nih! Memang tak pernah mengecewakan... 🥰Saya mesti PILEY ❗❗ Mana-mana sahabat yang berhajat nak pakai POS System ni, boleh roger
Insan San
. After sale service gini 👍" - Zailiya Wang Sunnah
"Alhamdulillah.. kini semua urusan stok dan akaun menjadi semakin mudah dan teratur.. terima kasih kepada Tuan Insan kerana sudi bersusah payah untuk melayan kehendak Kedai Emas Lelong... jutaan terima kasih."
"Terima kasih kepada Sankyu System kerana memperkenalkan program untuk kedai emas ini. Banyak membantu dalam pengurusan, pengiraan stock, rekod cheque dan bermacam lagi. Memang sudah lama cari system ini tapi harga mencapai puluhan ribu bukanlah pilihan terbaik bagi 'beginner' seperti saya. Terima kasih sekali lagi, service door to door. Mesra pengguna yang amat disenangi."
"Perkhidmatan yang memuaskan, sistem mesra pengguna, memudahkan peniaga menguruskan perniagaan. Hanya dengan tutorial singkat saya dah faham macam mana nak guna sistem ini. Terima kasih Tuan Insan."